Introduction
As part of ongoing efforts towards learning (Sharpen the Saw!), I have been playing around with Graph Databases and Machine Learning in the context of HR / People development.
In case of Graph Databases, I picked Neo4J to do some experiments - partly because it is quite easy to setup, is free etc.
Sources / types of data include:
People records (Joining, Total Expr, Promotions, Titles, City)
Skill data (raw skills information, grouping, certifications, social endorsements)
Team data (name, members, skills required in general)
Performance data - ratings, feedback, coding behaviours
Internal Knowledge management / Expert Forums - to seek out skills
Rough Schema
Here is roughly how the relationship are setup - for lack of a Schema.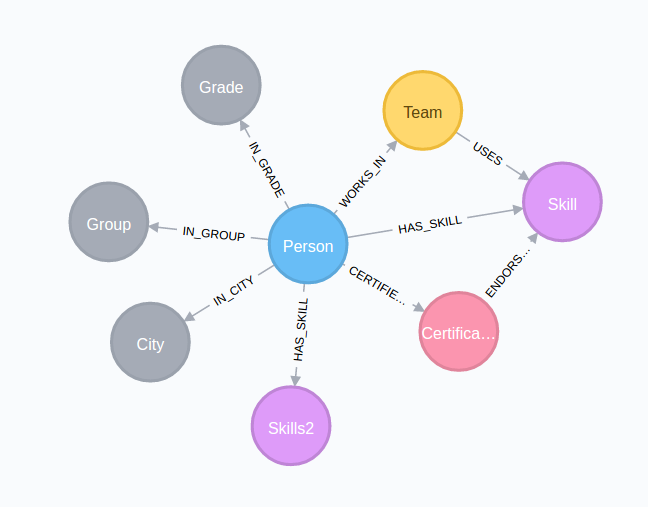 The Interesting part:
Obviously, I am doing this for the insights. Here are a some interesting questions I was able to answer:
Find all Junior managers managing teams remotely - they may need support to be successful
If a Person knows "X" Technology, what are technologies are they likely to knows
Which people know "X" technology, but are part of teams that don't require that skill? Sub-optimal use
Find employees "similar" to a given person - This helps in mitigating key-person risk, succession planning
Find the "Best Fit" team for a given person
Given open-positions in the organization, who can be tapped internally? Job mobility.
What are some pre-requisites for a Certification?
If I want to work in Team X or for a particular function (say: business analysis), what certifications are useful?
Is this really easy to implement?
If I can whip up some code to quickly answer these questions, why is it that larger organiztions are not using such approaches already?
Answer is simple - This is not a technology problem. Getting quality data requires connecting disparate systems that hold useful information. And for the most part, they are unreliable and "point-in-time".
Sometimes, it is possible to infer information - For example: what skills are expected in a particular team? We could get this from the team management or infer from the most common skills in the team.
Some ideas for implementation
Using internal and external social platforms to capture and validate skills and endorsements
Gamification to collect and cleanse data
Make these insights part and parcel of day to day team and individual activities, feedback sessions, internal mobility, hiring, learning etc.
comments powered by

Disqus